Map2Shp软件是一款专业的Shape格式转换工具
文章来源: 点击次数:1076 时间: 2023-06-15 15:03:29
Map2Shp software is a conversion tool for converting MapGIS graphic files of Zhongdi Company into Shape format of ESRI Company. It provides a full set of functions such as format conversion, attribute correction, annotation conversion, projection maintenance, topology inspection, etc. , which can effectively prevent information loss and destruction during the conversion process, and provide great convenience for the rapid conversion and release of the resulting maps.
Map2Shp Pro Professional Edition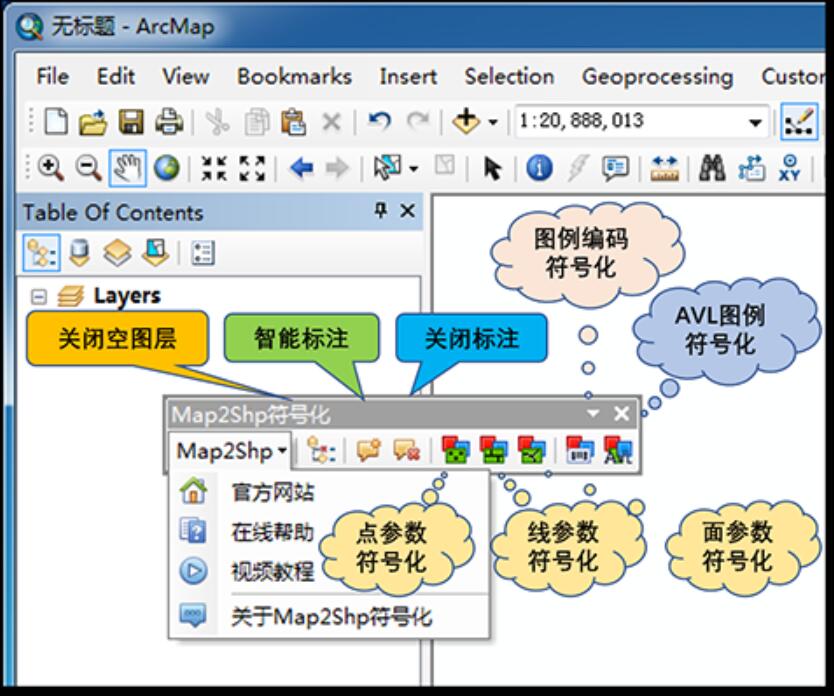 The MapGIS software of Zhongdi Company is one of the excellent GIS software in China. It is widely used by scientific and technological workers, especially geologists. The software has provided the function of converting to Shape format from version 6.5 and above, but its support is not very good. Complete. During the conversion process, there are problems such as loss of projection information, loss of primitives, missing attribute fields, garbled attributes, etc., and even files cannot be converted, or ArcGIS software cannot recognize them after conversion , which seriously affects the sharing and application of geographic data.The Map2Shp format converter software is specially developed to address these problems. Based on the latest ESRI Shape file specification, the algorithm is stable and the format is compatible. The above problems do not exist at all, so it is more suitable for the needs of large-scale data conversion in the actual data production process.
The main function
1. It perfectly supports the conversion of point, line, surface and table files of MapGIS6.x version to Shape format.
2. Perform attribute conversion without loss, and also perform value verification and error correction (null value, space, special character verification) during conversion.
3. Carry out spatial geometry verification for MapGIS primitives to make them conform to the Shape space rules, which is convenient for subsequent professional applications.
4. Support the conversion of special elements such as text, arcs, nodes, and attributes; support parameter output, and meet the cross-platform configuration of legend parameters.
5. Support MapGIS annotation position, font, size, color, font, subscript and other parameter information, and solve the cross-platform conversion of annotation text.
6. The unique projection maintenance function supports the matching conversion of MapGIS projection parameters to ArcGIS, saving additional projection definition work.
7. The built-in character code automatic conversion function completely eliminates attribute garbled characters, and supports the generation of UTF-8 encoded Chinese character Shape files.
8. The conversion process has complete log records, error messages are prompted one by one, and every detail of the conversion process is mastered.
9. The system directly performs disk operations on MapGIS files, and the conversion speed is extremely fast, and the conversion time of a single layer reaches the millisecond level.
10. It does not depend on the MapGIS system and can run on any computer.
Welcome to download and try, please click
the link to download and buy